Wondering what store bought veggie burgers are healthy and which should be considered vegan junk food?
The First Question to Ask Yourself Is…
"Is this veggie burger vegan?" Some store bought veggie burgers are vegetarian, but contain animal bi-products such as egg whites. With that in mind, know that all the frozen veggie burgers I mention in this post are vegan.
Then What?
The second criteria can be taste. If a veggie burger doesn't taste good, it really doesn't matter how healthy or junky it is! That being said, all the veggie burger brands I will mention in this post are ones I find tasty.
The next criteria is how healthy the veggie burger is. Does it follow the vegan dietary guidelines I recommend?
The last criteria is how similar it is in taste and texture to meat. Since I haven't eaten animal protein since the age of 7 (30 years ago) I'm not the best person to judge. However, I had friends help me give the vegan burgers in this post a "realistic rating."
I split veggie burgers into two main categories… Those that I can feel good about eating on a regular basis, and those I consider "treats" and should only be eaten on occasion. Here are my top three picks for each category.
Burgers I  Recommend Suitable for Regular Consumption
These patties, though processed, are primarily made of whole foods. They are absolutely delicious, but must be looked at as their own unique food items, not to be compared to the taste and texture of a beef patty. My top picks include:
Dr. Praeger's California Veggie Burger 
These store bought veggie burgers are great because they are made from whole food ingredients, are low in calories, low in fat, and high in fiber. I also enjoy Dr. Praeger's Bombay Veggie Burgers. Keep in mind they really have no similarity taste or texture-wise from animal-based burgers (which for some of  us is a good thing, while others may find this disappointing.
Sunshine Burgers
This vegan burger can be thought of as a hearty meal, as it is higher in calories and fat than the many others because it's base is sunflower seeds. I also like the Southwest style burger from Sunshine Burgers. Sunshine burgers are great for cutting up and adding to a salad as well.

Hilary's
Hilary's makes several great versions of their veggie burger (original, root vegetable, adzuki bean, etc.). You can feel good about eating these as part of you're go-to foods list. The base for these store bought veggie burgers is millet and quinoa. They need to be cooked in the way specified in the directions, or else they can come out on the dry side. Hilary's burgers are great alone or on a salad.
Store Bought Veggie Burgers for Special Occasions
These vegan burgers are ones that look, taste, and feel most like beef burgers. They may be something you want to use for barbecues or when trying to appease a meat-eater or your own craving for meat if you are at a point where you still have those cravings.
The down side is that they are more processed and contain less healthy ingredients. So while you are doing right by the animals by not supporting their horrific life and death, you are not doing your body a favor by eating them. That being said, we are all entitled to treat ourselves to some vegan foods that are not the best for us every now and then. I know I do! As long as you are keeping your regular diet clean and exercising there's no reason for guilt 😉 
Beyond Meat's The Beyond Burger
This veggie burger is probably the closest to "the real thing" on the market today. I therefore recommend this one if you want to show others how they could begin to transition to a vegan diet without feeling deprived. In fact the beets they use to give the patty a red-meat appearance have led some in the media to remark that the burger "bleeds" beet blood. (This is NOT an attractive feature to me though!)
The Beyond Burger, primarily made up of isolated pea protein, is similar to beef burgers in number of calories, grams of protein. The Beyond Burger has more iron and less saturated fat than meat burgers, but be aware that the veggie burger is high in sodium and contains some saturated fat (coconut oil). Of course, as for all plant foods, it has zero cholesterol (whereas beef patties have about 80 mg).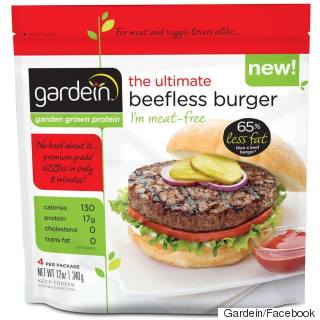 Gardein Beefless Burger
Gardein prides itself on how realistic their meat substitutes are. Their veggie burger is no exception. This may be one of the least healthy options on the market today. It's main ingredients are soy protein isolate and vital wheat gluten. Super tasty though!
Amy's Bistro Burger



This veggie burger has been around the longest out of these top three "treat" burgers. Since Amy's the brand has been around for such a long time, it could be easier to find at your local grocery stores then the others. It's also gluten free and the option with the highest amount of whole food ingredients out of the three. It's delicious too!
 I hope this guide helps you make the right store-bought veggie burger for the right occasions!