Thanks to the growing vegan cheese options on the shelves these days, giving up cheese is becoming easier and easier.
I get a lot of new clients who say, "I would go vegan, but I just can't imagine life without cheese!"
Well let me just tell you… Vegan cheese has come A LONG WAY since I went vegan 22 years ago! In fact, vegan cheese has come a long way in just the last year. The options getting more and more realistic both in taste and texture. Just recently, vegan cheese products are also becoming healthier too. How cool! 
Here are my top 5 brands and favorite vegan cheese products. Explore and enjoy!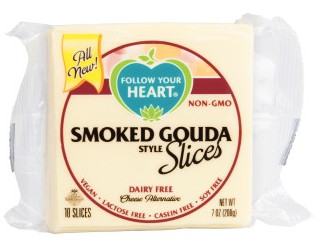 Brand: Follow Your Heart
Favorite Product:
Smoked Gouda Style Slices
I don't remember ever trying smoked Gouda cheese before going vegan at 15 years old. When I discovered Follow Your Heart's smoked Gouda style slices I felt like I'd died and gone to heaven. Perfectly smoky and creamy, these slices make a killer grilled cheese or melt. Being the southern girl I am, I absolutely love it in grits too. This vegan cheese is one of my staple "comfort foods".
Pepper Jack Style Slices
All the spicy goodness you love without the horrific animal abuse. Try this flavor in quesadillas or on pizza, or just eat with crackers!
Brand: Daiya Foods
I recommend this brand for all your cheese needs. Not only are the products 100% vegan, they are also free of soy, gluten, peanuts, and tree nuts (except coconut), but they have their own factory to eliminate the risk of cross-contamination. Daiya is becoming available in more and more mainstream grocery stores as well.
Favorite Products:
Mozzarella Style Shreds and Pepper Jack Style Shreds 
These are great tasting and they melt just like "the real thing"!
The mozzarella is perfect for making a delicious vegan pizza, and the pepper jack couldn't be better for topping burritos and making quesadillas.
Havarti Style Wedge and Jack Style Wedge

I used these at a house party recently, on a platter with olives and crackers. The non-vegans had NO IDEA that the cheese was non-dairy. In fact I received compliments on the Havarti wedge and it was gone in no time. They couldn't believe it when I told them later that it was vegan. Go Daiya!
Brand: Heidi Ho Veganics
Favorite Product:
Chia Cheeze Sauce
Go Heidi Ho! I've had the privilege of meeting the awesome women behind this up and coming vegan cheese brand. This is the healthiest "nacho cheese" alternative out there to date. The kicker… It tastes incredible!
Brand: Kite Hill
Favorite Product: 
Cream Cheese Style Spread (Chive)
Kudos to Kite Hill for creating the single most healthy vegan cheese on the market today. Unfortunately, because they are a relatively young company, there is a good chance their products have not made it to your local stores yet. Be patient though, I have no doubt Kite Hill will grow exponentially. Not only is their vegan cream cheese the healthiest, it's also the best tasting. How exciting is that?!
The chive flavor is my favorite, but the classic plain flavor is good as well. When I need a savory treat, I spread it on seed or rice crackers, and sometimes add slices of cucumber… yum! When I have guests I serve it with whole grain or gluten-free bagels and get nothing but compliments.
Brand: Galaxy Nutritional Foods
Favorite Product:
Vegan Cream Cheese Substitute, Chive & Garlic
I only get this every once in a while because it is still a processed food, but of the vegan cream cheese that are available in many main stream grocery stores, this is one of the healthier, has the best consistency, and tastes great!
I'd love to hear your favorites in the comments! 
The following two tabs change content below.
26-year vegan veteran, Ella Magers founded Sexy Fit Vegan® in 2012 to bring veganism into the mainstream. Ella runs a transformational coaching program that empowers clients to build a healthy relationship with food, their bodies, and themselves as they create a fit, vegan life they love! Check out her FREE Master Class: https://sexyfitvegan.com/masterclass-registration
Latest posts by SexyFitVegan (see all)